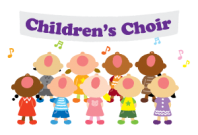 Do your children love to sing, act or do anything musical? Our Children's Choir is the place for them. There are two different opportunities available for your children to be involved in this worship experience.
Kid's ROCK Children's Choir
In case you were wondering, our Kid's ROCK stands for "Kid's Reaching Out 4 Christ's Kingdom." This isn't just a time for kids to come sing and learn music, but a time to learn about the love Jesus through music. Every week we get together to praise Jesus and help each other discover the joy of using the talent God has given us to worship, praise and lead others to know Jesus through music. If your children are in pre-K through 6th grade (ages 4 – 11), we would love to have you join us as we praise our amazing King Jesus!
Approximately four times a year we will lead our 10:45 am Worship Service in a time of worship and praise through musical performance that teach about Jesus. We have done a variety of worship musicals that allows any child the opportunity to be involved.
When we meet: Meet as needed.
Where we meet: Room B203 (located in the Bible Study Group hallway)